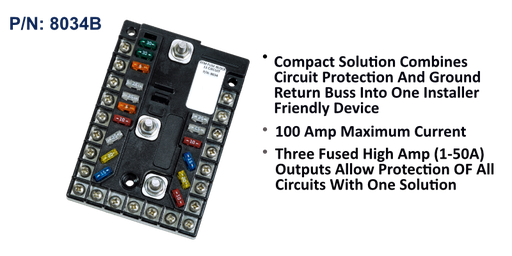 Description 
Applications / Problems This Solves
Three (3) High-Amp (1-50A) Outputs Allow Protection of All Circuits with One Solution

Compact Solution Combines Circuit Protection & Ground Return Buss.

Reduce Install Space and Total Installed Cost with Integrated Ground Return and Combination of high and low amp output circuits

Expandable Up to 26 Fused Outputs with Second 8034 Fuse Block and Link Busbar
Feature Summary
Protects Branch Circuits By Accepting ATM-Mini Series Style Fuses.

Bulletproof Construction Designed With High Temperature Materials and Stainless Steel Self-locking Hardware Allow Mounting Anywhere on Vehicle. 

Supports SAE Circuit Protection Standards for thermal/short circuit events.


4 Year Industry Leading Warranty

Protective Terminal Cover
Ensures input and output power terminals and screws do not short circuit to each other or to ground.


Three (3) Flexible High Amp Fused Outputs
Protects a wider range of loads by offering two paralleled mini fuses, one or both positions may be used.


Robust Input & Output Terminals

 
M6 stainless steel terminals and self-locking nuts with tin plated copper pads.


Integrated
 Ground Return Block 
Receives up to 14 ground return wires and provides one high amp return to the battery.


Integrated Label Recesses
Convenient recesses for optional weatherproof label set makes circuit identification easy.


Stainless Terminal Screws
Easy to use #8 Phillips sized terminal screws keeps wire landing quick. Integrated terminal dividers ensure that wires will not contact-short with each other.


Blown Fuse LED Indicator
(Coming Soon)
Troubleshoot blown fuses and open circuits quickly using integrated LED indicators.

Large Terminal Pad
Ensures reliable and secure connection is maintained for duration of install and protects ring terminal from deformation.