Just Released!
XD Series 2 Pole Intelligent Relay

Check out our latest release, our new XD Series 500A capable 2 Pole Intelligent Relay! Multiple Voltage Capability For Multi Voltage/Multi Battery Chemistry Battery Applications With 12 & 24V Switching Capability in One Device. Meets Aluminum Hull and US Coast Guard Safety Requirements For Isolated Switching of Both Positive and Ground Leads. Remote ON/OFF/Auto Inputs Allows Forced Close or Open or Allowing Automatic Operation Based on Voltage Sensing. This multi-function and feature rich device is great for modern vessel installations that require multi-voltage battery banks or that need switching capability of both positive and ground leads.

XD Series 2 Pole Intelligent Relay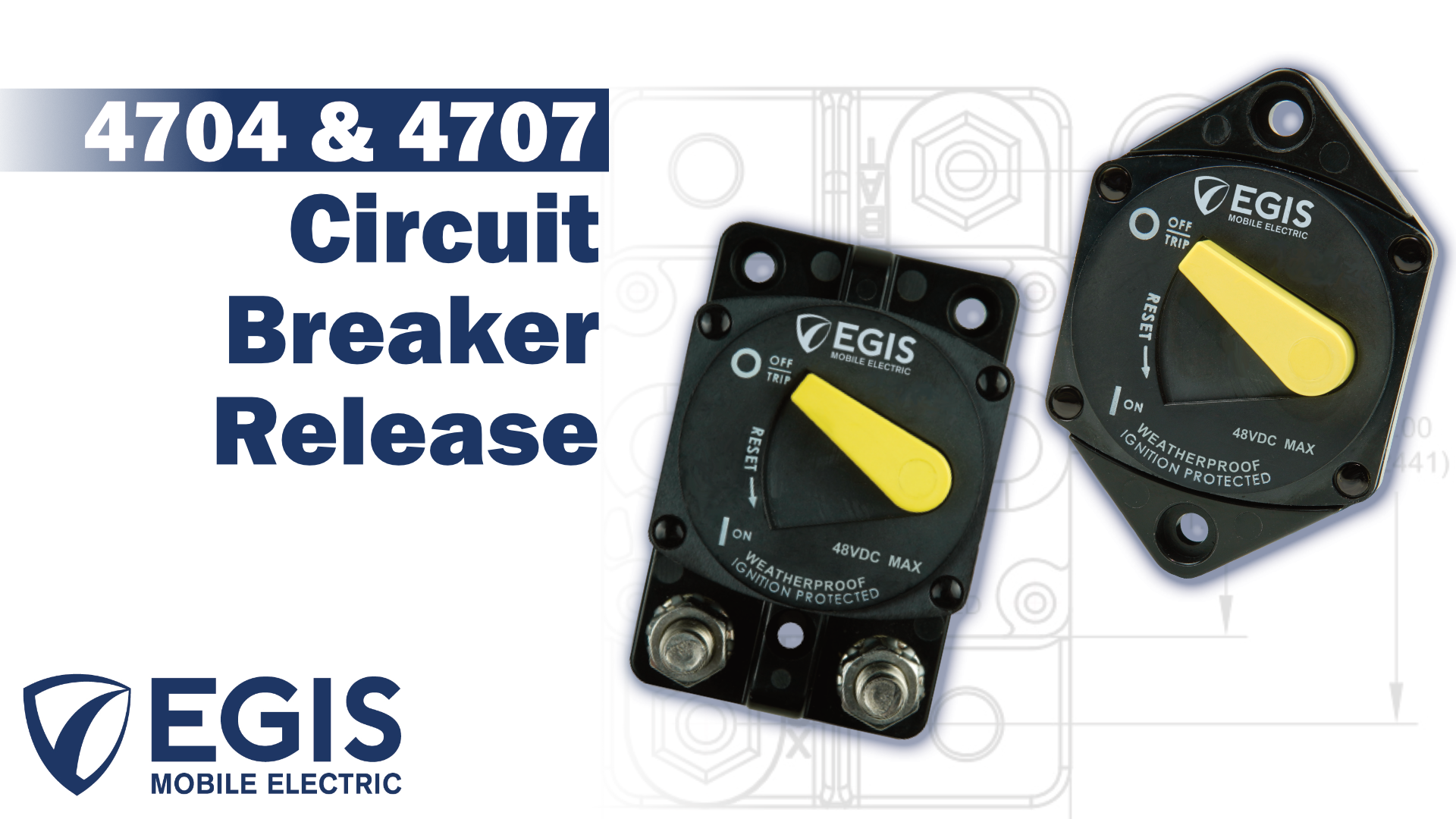 4704 & 4707 Circuit Breakers
Check out our latest release, our new 4704 Surface Mount and 4707 Panel Mount switchable circuit breakers! These circuit breakers offer robust construction, weatherproof housing, easy to mount circular style panel mount design, stainless steel hardware and high visibility ON/OFF lever.​
​ Click Here To See Links For Every Amperage
Ensure ample starting power with Egis Mobile Electric's latest XD Series Relay, the new XD Series Programmable Low Voltage Disconnect is sure to impress with its extensive feature set and compact size, making it a great addition for demanding electrical systems that operate in harsh environments.



New 24V version of our popular 901087 automotive grade drop-in replacement relay to Tyco/Amp. This relay features flyback voltage suppression with integrated resistor and is constructed of durable high temp rated materials while having IP67 ingress protection. Enhanced shock protection ensures a long service life and a great service life. High intermittent amperage of 300 Amps for up to 3 seconds makes this relay great for temporary high equipment start up amp-draw applications.

901819 180 24V Amp Relay



Robust drop-in replacement tab mount form c automotive grade relay with IP54 ingress protection and reinforced mounting tabs. Constructed of high-quality materials for superior performance and has a high 100,000 electrical switching cycle capacity. Enhanced vibration and shock protection, ensures enhanced reliability and a long service life and maintains electrical system operational readiness.

901770 40 Amp Tab Mount Relay Form C



Product Release 2022 Q1-Q2

The 5604 Delay On Relay w/One Shot is a 30 Amp one shot timer with optional on delay which can be triggered from a leading or falling input line voltage and after the shot duration will lock out the output until the control voltage re-sets. High amperage design lessens the need for additional relays and complicated wiring. Integrated easy to see LED status indication provides intuitive diagnostic feedback.

5604 PT Series Delay On One Shot Relay



Replace legacy remote battery switches and solenoids with the new XD Series Remote Battery Switch / Solenoid featuring magnetic latching operation, a 40% smaller footprint than legacy devices, and an ultra low off state current dissipation of only 1.3 milliamps. Forward facing stainless input studs make landing large wires easy and protective cover with integrated label recesses enables easy identification while providing short to ground protection. These solutions are available with or without an easily operated manual control knob to force it on or off and lock the device out during vehicle or vessel servicing. Verify operational readiness near and far with integrated LED status indicator and a wire output for optional remote LED indication.




8710-1500 Remote Battery Switch w/Knob & Tinned Wires
8710-1600 Solenoid w/Tinned Wires

8810-1500 Remote Battery Switch w/Knob & Deutsch Connector
8810-1600 Solenoid w/Deutsch Connector

Single Circuit / Double Circuit / Triple Circuit

Available in Single, Double and Triple circuit variations. Each position in the flexible relay can be used as a normal 500A relay battery disconnect, an automatic charging relay, or even a low voltage disconnect. Also available with or without manual override knobs and you also have remote input through these wires that can be either pre-tinned wire leads or come with a sealed Deutsch DTM connector. Compact size and optional busbars keep installation size to a minimum without sacrificing features or reliability. Protective terminal cover also included which has label recesses making wire identification easy!

Single XD Series Flex Relay

Double XD Series Flex Relay

Triple XD Series Flex Relay

XD Relay Part Number Ordering Guide


75 Amp Automotive Relays
Bi-Furcated Contacts
Bi-Furcated contact, Optional Dual Diode (901463) prevents damaging fly-back voltage to control circuits. Robust materials and construction enhances vibration, shock protection and long term reliability. High 150 Amp Intermittent rating for up to 3 Sec supports high amp inrush equipment applications.
901463 Dual Diode Automotive Relay

High Voltage/Amperage Contactors
Hermetically Sealed
100A and 250A-400A
High ampere sealed contactors provide long term reliability for remote switching needs. High contact voltage rating easily supports 12-24 Vdc applications and up to 48V and beyond.


Dual Input Fuse Block




Automotive/ Marine Rated



Unique hybrid fuse solution offering three high amp outputs, compact circuit protection solution provides two (2) Input/Output groups, seven ground return screws can support up to fourteen (14) wires. Ten (10) outputs @ 1-30 Amp, Three(3) outputs @ 1-50 Amp and two unfused outputs at 1-60A

. 8033 Dual Input Fuse Block

Product Release 2020