Fuse Block ATO/JCase 8+2, M6 In, Bulk
---
Pricing Varies Depending on Qty Selected. For Direct OEM/Distributor Pricing, Contact Us At: [email protected]



Cover label recesses
Cover provides recessed locations for circuit identification labels and fuse block function label. Standard and customized label sheets available separately 



simple connectivity
Optional bus bars provide space saving and cost effective connections between other devices such as the TH Series relays disconnects.




STAINLESS STEEL SELF-LOCKING HARDWARE
100% Non-ferrous corrosion resistant materials. All attachment screws and nuts include self-locking mechanisms.



low-amp output connectors
Plug and play assembly and reduce potential of loose electrical screw connections. 


ip rated fuse cover
Snap on fuse cover provides protection from positive terminals and ensures device is ignition protected (ISO 8846) in potentially explosive environments.




optional label sets
Standard water-resistant label sets for vehicle upfitters and marine installations available. Custom sets also available.


available mating cable assemblies
We provide everything from loose connectors and terminals to complete connector and wire assemblies with circuit identifiers.


MAXIMUM CURRENT - ENTIRE BLOCK
200 Amps DC
MAXIMUM CURRENT - ATO Fuses combined
100 Amps DC
MAXIMUM CURRENT per fuse
ATO/ATC Fuses:    20 Amps
LP J Case Fuses:  50 Amps
MAXIMUM OUTPUT WIRE SIZE (ATO)
ATO/ATC:   14 AWG
LP J Case:  8 AWG
COMPATIBLE FUSE TYPES
ATO/ATC Standard Automotive & Low Profile J Case
OPERATING VOLTAGE
12 or 24 V Systems,  0 to 36 Vdc 

NUMBER OF FUSE POSITIONS
ATO/ATC Fuses:     Eight (8)
LP J Case Fuses:   Two (2) 
OUTPUT TERMINAL CONNECTION
ATO/ATC:     Molex MX-150 Connector
LP J-Case:   Ring Terminals / M4 (#8)

Application Example 
Entire Vehicle Switching and Circuit Protection

Combining a high-amp TH Series Time Delay Relay (TDR) with a 5015 Fuse Block attached to the TDR input stud (left) provides 24 hour / keep-alive circuits; while the second 5015 Fuse Block (right) attaches to the output stud of the TDR providing switched circuits for the installation. The TDR can operate both as a remotely controlled switch and optionally in an autonomous mode after a prescribed time from a trigger event or due to a low input voltage situation. Fuse blocks shown without included covers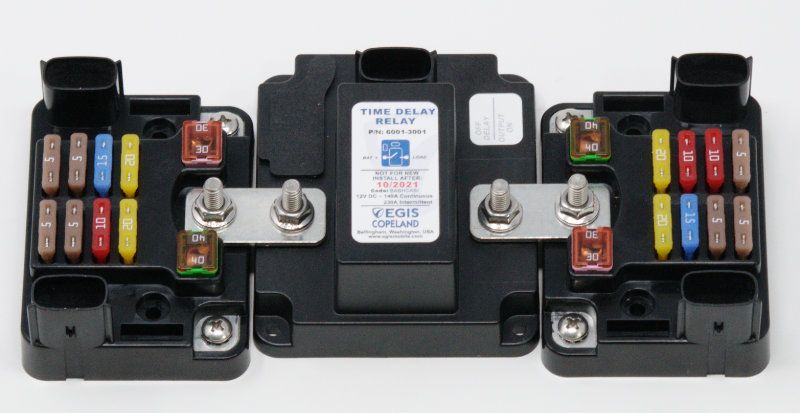 Sales Sheet
- Coming Soon -