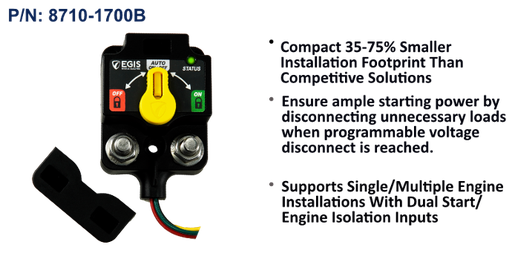 Description 
Applications / Problems This Solves
35-75% Reduction in Mounting Space & Product Weight
 via advanced bi-stable solenoid design and multiple solenoid assemblies that replace common electrical system layouts.
Ensure ample starting power
 by disconnecting unnecessary loads when programmable low voltage disconnect is reached. This can eliminate weak start or no start conditions due to exhausted main batteries. 

Feature Summary
Bullet-proof Construction: Sealed to IP67/IP6K9K, high temperature electronics and materials allow mounting anywhere. Stainless steel cable lug studs. Large mounting holes accept 1/4-20 / M6 attachment hardware.

Intuitive Manual Control option simplifies operation and awareness of state of manual override and whether the device is being left in a locked off or locked on state (not available on competitive solutions)

Simple Programmability via simple dip switches allows each individual relay function significant flexibility for OEMs and installers. 

90-95% Less Off-State Current:
 Compared to competitive products and system solutions that require multiple devices for similar functionality

LED Status Display
 Easy to see front facing LED indicator provides visual device status, remote LED replicates local on-device LED

3-Position Manual Override
 Force each individual relay Open or Closed and optionally leave knob in either position to lock relay in either condition. 

40 Circuit Label Sheet Included
Convenient recesses for included weatherproof label set makes circuit and relay identification easy. Blank labels for custom applications.

Protective Cover Included
Protects terminal studs and cable terminal edges from inadvertent shorts to each other or ground.

Stainless Hardware
Corrosion is no issue with quality stainless steel studs and self locking flanged nuts.

Programmable
Via dip switches located under protective cover. An easy to use configuration guide on reverse make custom settings a breeze to configure for a wide variety of applications.

Smaller Foortprint
XD Relays offers high Amp rating in a smaller package than competitive solutions, reducing install space requirements to a minimum.

Integrated Vent
High quality Gortex vent regulates internal device pressure to eliminate moisture entry across seals and ensure long product life in harsh environments.
 XD Series Related Options 

Manual Override
Intuitive to use front facing yellow manual override knob makes manual control easy but if it's not needed, ask about our lever-free models!

Wire/Connector
Flexible install wiring options with either tinned wires or optional Deutsch DTM compatible plug that provides optimal sealed protection.

Link Bars
Save install space by linking XD Relays together for even more capability with our optional 8790 and 8791 Links Bars.

Single/Dual/Triple
Available in single/dual/triple circuit configurations with a wide variety of options: manual override, relay functions, ACR, or remote battery disconnect.
 Related Products