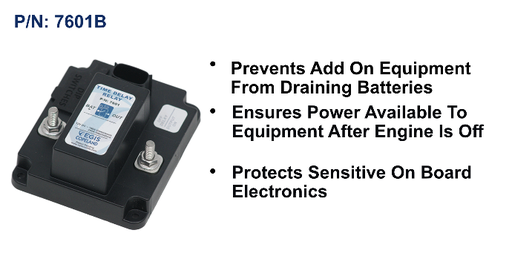 Applications / Problems This Solves
Prevents add-on equipment from draining batteries, maximizing operational readiness by eliminating dead batteries, saving total cost of operation.

Ensures power available to equipment after engine is off or at end of shift (video downloads) are satisfied while automatically turning off after a preset time or optionally if battery charge is low.

Protects sensitive on-board electronics via optional under/over voltage shutdown and start event isolation.


Accessory Products
Feature Summary
Ultra-Low Power Draw eliminates vehicle downtime due to dead batteries. Lowest off-state current draw (1.3 mA).

Simple & Robust Installation:   Sealed plug with optional long wire leads. Single timer/relay device reduces installation time, overall costs and points of potential failure. Optional output bus bar easily connects RT or CT Fuse Block families.

Adjustable OFF Time Delay: 15 minutes to 16 hours + 5 sec test mode 

Bullet-proof Construction: Sealed unit, high temperature materials allow mounting anywhere on vehicle. Integrated thermal overload protection

Start Isolation / Kill Switch control input option for service technicians, emergency OFF, or protecting sensitive add-on equipment from engine cranking voltage fluctuation.

Flexible Control Options via Ignition Key, alternator voltage sense, or both.

CONTINUOUS
CURRENT (AMPS)
160
voltage range
(v dc)
8 - 18
off-state current draw 

(mA)

1.3
intermittent current (amps)
240
Time Delay range settings (hr)
0 - 16
low voltage protection (v dc)  
11.0
ARTICLES
Check back here for product related articles
DIAGNOSTICS
See FAQ section below for further assistance

TOP SIDE DIP SWITCHES
Accessible after installation, for programming time delay and determining active features. Protected by self-retained cover.


STAINLESS STEEL SELF-LOCKING HARDWARE
100% Non-ferrous corrosion resistant materials. All attachment screws and nuts are self-locking.


INTEGRAL I/O CONNECTOR
Rapid and 100% correct assembly via Molex MX-150 connector eliminates poor field connections.


HARNESS OPTIONS
Harness w/2 feet ground/ignition wires included. Harnesses with additional outputs, longer wires, and Deutsch connectors available


EASY INTEGRATION WITH CT FUSE BLOCKS
Optional EasyLink bus bars provide reduces space and cost to connect TDRs with CT series Fuse Blocks.


EASY INTEGRATION WITH RT FUSE BLOCKS
Optional EasyLink bus bars provide reduces space and cost to connect TDRs with RT series Fuse Blocks.


LED DIAGNOSTICS
Provides indication of pending relay OFF event due to under/over voltage or external off trigger. Output on/off status also provided.

INSTALLATION
This section is reserved for installation related questions & answers. For immediate assistance, please email:us at: support@egismobile.com
DIAGNOSTICS
This section is reserved for new or existing installation diagnostic related questions & answers. For immediate assistance, please email:us at: support@egismobile.com
APPLICATIONS
This section is reserved for general application related questions & answers. For immediate assistance, please email:us at: support@egismobile.com