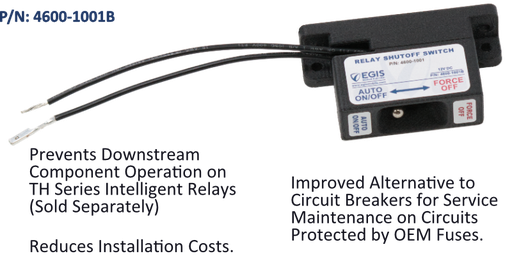 Applications / Problems This Solves
Improved Alternative to Circuit Breakers where power feed is already fuse protected. Eliminates circuit breaker voltage drop improving end component performance especially during low battery situations.

Prevents Load Component Operation and Reduces Power Draw while vehicle/vessel is stored or being serviced by personnel not authorized to operate loads. 

Reduces Installation Costs by replacing circuit breakers with plug & play connected solution.

Feature Summary
Protects Batteries from long-term storage drain by eliminating off-state current draw.

Simple & Robust Installation: Pre-terminated wiring for plug & play connection to TH Series MX-150 control connector ensures load side of switch connection is fully environmentally sealed.

Compact Solution surface mounts vertically or horizontally to maximize installation flexibility. Panel mount installation hardware also included.

Robust Construction: Carbon fiber reinforced housing, heavy action toggle, tin plated wires.

Lifetime Satisfaction Guarantee

CONTINUOUS
CURRENT (AMPS)
6
Wire INSULATION 


OUTSIDE DIAMETER (MM)

2.7
MIN
OPERATE
 TEMP
(DEG C)
-40
MAx Operate Temp
(Deg C)  
85
DIAGNOSTICS
See FAQ section below for further assistance
INSTALLATION
This section is reserved for installation related questions & answers. For immediate assistance, please email:us at: support@egismobile.com
DIAGNOSTICS
This section is reserved for new or existing installation diagnostic related questions & answers. For immediate assistance, please email:us at: support@egismobile.com
APPLICATIONS
This section is reserved for general application related questions & answers. For immediate assistance, please email:us at: support@egismobile.com