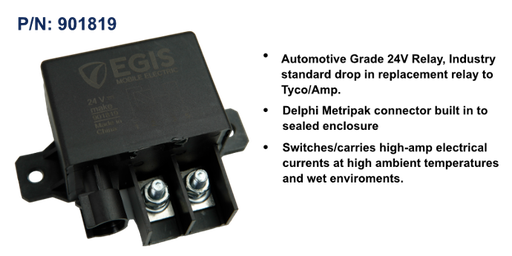 Applications / Problems This Solves
Resistor circuit protection ensure flyback voltage does not affect control signal circuitry. A great option for sensitive electrical systems.
High Intermittent Amperage rating of 300 amps for up to 3 seconds making this relay great for temporary high equipment start up amp draw applications.
Automotive Grade Connector ensures moisture and dust intrusion is kept from control circuitry.

High Temperature Rating of 125C/257F makes this a great relay for high temperature installation environments like engine bays and other low ventilation spaces.
Feature Summary
Bullet-proof Construction:
 Robust automotive grade relay with IP67 ingress protection and reinforced mounting tabs ensure secure mounting.
Dual Mounting Holes
 on either side for easy mounting with 1/4-20"/M6 1.25 Bolts or screws up to #14 screw.
Incorporate The Highest Quality Materials for superior performance and has a high 100,000 electrical switching cycle capacity.

Enhanced Vibration and Shock Protection, ensures enhanced reliability and a long service life and maintains electrical system operational readiness.
 Key Specifications 
Max INTERMITTENT




CURRENT @ 3 SEC (AMPS)




300



AMBIENT TEMPERATURE RATING (LOW/HIGH)


-40C/125C

MAX CONTINUOUS




CURRENT (AMPS)




180 @ 23C



ELECTRICAL ENDURANCE RATING (CYCLES)



1,000,000
On State Current Draw @ 24 vDC


163 mA



OPERATING VOLTAGE RANGE


17.6-32



 Focal Features 

Sealed Housing
IP67 rated housing keeps out moisture and ensure long term reliability.


Reinforced Mounting
Robust mounting tabs with strengthening gussets ensures relay stays mounted securely, even through vibration, heat and wire tension.


Terminal Protection
Shielded dual M6x1.0 terminals ensure protection from accidental contact shorts.

Delphi Metripak Connector
Automotive grade sealed control wire connector keeps out moisture from the control circuit.