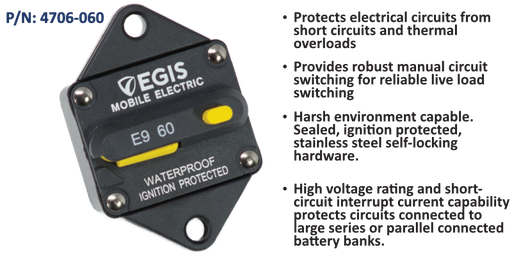 Applications / Problems This Solves
Protects Electrical Circuits from short circuit events and over-current loads, preventing wire insulation overheating and subsequent destruction.
Automatic Circuit Protection & Manual On/Off Switching
 combines dual functionality in one reliable and compact solution.
Allows for Circuit Isolation and Maintenance of Load Circuits
 by providing convenient switching and integral circuit protection capable of mounting adjacent to battery systems regardless of the location.
Feature Summary
Sealed Against Dust & Water Intrusion to ensure reliable circuit protection for the life of the electrical system installation 
High Voltage (72 Vdc) Rating
:
easily supports 12 and 24 Vdc applications while offering improved protection for 36 and 48 Vdc systems rather than using fuses.
High Electrical / Manual Switching Endurance
delivers 6,000 cycles at full current
High Interrupt Current:
 safely protects circuits connected to large paralleled battery banks with significant available power4 Year Warranty
: We stand behind our product's ability to meet your needs.
CONTINUOUS
CURRENT (AMPS)
60
Interrupt Current @ 16 Vdc (Amps)
5,000
INTERRUPT CURRENT @ 28 VDC (AMPS)
3,000
ingress protection rating
IP67
ARTICLES
Check back here for product related articles
DIAGNOSTICS
See FAQ section below for further assistance

ON/OFF HIGH VISIBILITY CONTROLS
Sealed against dust and moisture penetration. High temp rated for all installation locations.


PANEL MOUNT FLANGE
Provides Rear  / Front panel installation options.


STAINLESS HARDWARE / SERRATED FLANGE NUTS
Corrosion and vibration resistant for harsh environment applications.

INSTALLATION
This section is reserved for installation related questions & answers. For immediate assistance, please email:us at: support@egismobile.com
DIAGNOSTICS
This section is reserved for new or existing installation diagnostic related questions & answers. For immediate assistance, please email:us at: support@egismobile.com
APPLICATIONS
This section is reserved for general application related questions & answers. For immediate assistance, please email:us at: support@egismobile.com