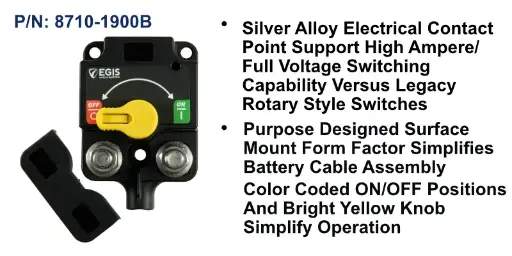 Description 
Applications / Problems This Solves
Silver Alloy Contact Points
 support high ampere/full voltage switching capability versus legacy rotary style switches.
Expandable
:
 Integrate the 8700 XD Battery Disconnect easily with XD Series FLEX/ACR/LVD relays via using optional 8790 Link and 8791 Cross Link Busbars bars for easy integration with other Single, Dual or Triple Circuit XD relays.
Terminal Stud Protection:
 Included protective cover with convenient label recesses ensures no accidental shorts occur and allows for easy identification of circuits long term.
Feature Summary
Bullet-proof Construction: Sealed to IP67/IP6K9K, high temperature electronics and materials allow mounting anywhere. Stainless steel cable lug studs. Large mounting holes accept 1/4-20 / M6 attachment hardware.

Intuitive Manual Control: Bright yellow knob and intuitive easy to read on/off label simplifies operation and awareness of state of manual override and whether the device is being left in a locked off or locked on state.

Ignition Protected: Safe for install in gasoline powered boats and other combustible install environments. 

Sealed IP67 Construction keeps moisture out and the integrated Gore Tex pressure regulation vent increases its ability to operate reliably for long term harsh environment operation.

Compact Case Design allows for easy surface mount or rear panel installs and rectangular shape (narrower than competing products) keeps finding a mounting location easy.


HIGH VISIBILTY KNOB
 Force each individual relay Open or Closed and optionally leave knob in either position to lock relay in either condition. 


40 CIRCUIT LABEL SHEET INCLUDED
Convenient recesses for included weatherproof label set makes circuit and relay identification easy. Blank labels for custom applications.

PROTECTIVE COVER INCLUDED
Protects terminal studs and cable terminal edges from inadvertent shorts to each other or ground.


STAINLESS HARDWARE
Corrosion is no issue with quality stainless steel studs and self locking flanged nuts.


SMALLER FOOTPRINT
XD Relays offers high Amp rating in a smaller package than competitive solutions, reducing install space requirements to a minimum.

INTEGRATED VENT
High quality Gortex vent regulates internal device pressure to eliminate moisture entry across seals and ensure long product life in harsh environments.
XD Series Related Options

LINK BARS
Save install space by linking XD Relays together for even more capability with our optional 8790 Link and 8791 Cross Link Bars.

SINGLE/DUAL/TRIPLE
Other XD Relays also available in single/dual/triple circuit configurations with a wide variety of options: manual override, relay functions, ACR, or remote battery disconnect.

40 LABEL SHEET for BATTERY MANAGEMENT APPLICATIONS
Coming Soon!