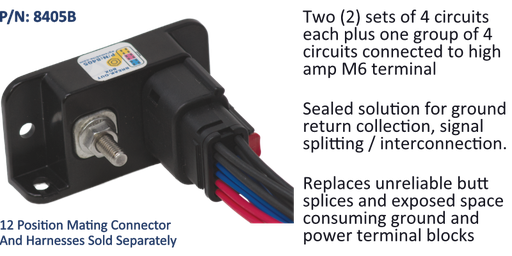 Applications / Problems This Solves
Improves robustness of ground return connections and wire to wire connections
that are otherwise exposed to corrosion / shorting with busbars and terminal blocks. 
Eliminates unreliable butt splice connections and allows for removable pull and test of circuit for system inspection and diagnosis while allowing for sealed connections. 
Reduces the mounting space required for busbar and wire connections
with a very compact footprint and two mounting orientations, increasing potential locations for installation.  
Accessory Products
Feature Summary
Ignition Protected: Safe to install in enclosed spaces on gasoline powered vessels and vehicles.

Simple & Robust Installation:  Sealed plug reduces installation time, overall costs and points of potential failure. Optional output bus bar easily connects RT or CT Fuse Block families.

Bullet-proof Construction: Sealed unit (IP67 / IP6K9K), high temperature materials allow mounting anywhere on vehicle or vessel.

Two Mounting Orientations provide optimal flexibility for installation locations.

Optional Deutsch DT/AT Connector Output contact us for more information.

max total
CURRENT (AMPS)
200
max terminal current
(amps)
22
cable size for max current

 (AWG)

2/0
operating temp range (deg c)
-40 /125
VOLTAGE RANGE
(Vdc)    
8 - 36
DIAGNOSTICS
See FAQ section below for further assistance

Horizontal Mounting
For spaces where minimum height from mounting surface is available.


Vertical Mounting
Provides minimal mounting footprint, for spaces where multiple blocks are mounted adjacent to each other

Harsh Environment Rated
Stainless steel hardware, tin plated copper alloy, sealed enclosure and connector

Internal Connections
High-Amp M6 terminal provides ability to return ground or distribute positive power as needed.
INSTALLATION
This section is reserved for installation related questions & answers. For immediate assistance, please email:us at: support@egismobile.com
DIAGNOSTICS
This section is reserved for new or existing installation diagnostic related questions & answers. For immediate assistance, please email:us at: support@egismobile.com
APPLICATIONS
This section is reserved for general application related questions & answers. For immediate assistance, please email:us at: support@egismobile.com