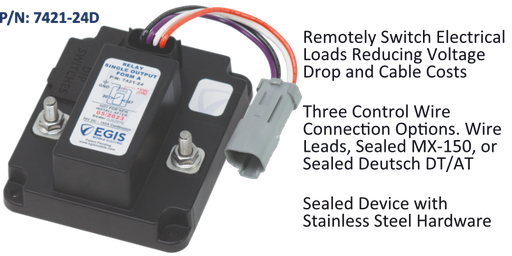 Applications / Problems This Solves
Reduces Voltage Drop and Cost of Battery Cables
 by replacing mechanical battery switches with an electrical relay inline between a battery and the electrical loads.
Supports Simple Battery Charge Management if connected to an engine ignition line. Can also support simple electrical system connect/disconnect when connected to ignition line.
Extends TH Series Automatic Charging Relay Capability
  to provide either incremental current 
carrying
 capacity or to connect and additional 
independent
 and isolated battery bank not connected to a charge source.
Accessory Products
Feature Summary
Simple & Robust Installation: Sealed MX-150 plug/harness with 2 ft control wires included. Reduces install time/costs. Optional output bus bar provides simple and compact connection to RT or CT fuse block product families.

Deutsch DT/AT Connector Option supports an industry standard for marine and commercial vehicle. 

Bullet-proof Construction: Sealed unit, high temperature materials allow mounting anywhere on vehicle. Stainless steel self-locking hardware

Integral Diode Suppression reduces voltage spikes on control lines during switching

Single or Dual Split Output Options provide flexibility for different electrical system requirements. See 7422B, 7422D, and 7422-24B for dual output part details.


CONTINUOUS
CURRENT (AMPS)
160
intermittent current (amps)
240
voltage range
(v dc)
16 - 34
on state current draw @ 24V 

(mA)

175
Terminal stud torque (in-lb/N-m)  
80 / 9.1
ARTICLES
Check back here for product related articles
DIAGNOSTICS
See FAQ section below for further assistance

DEUTSCH DT/AT STYLE CONNECTION OPTION INCLUDED
Provides plug/play harness for marine and commercial vehicle applications.


STAINLESS STEEL SELF-LOCKING HARDWARE
100% Non-ferrous corrosion resistant materials. All attachment screws and nuts are self-locking.


INTEGRAL I/O CONNECTOR
Rapid and 100% correct assembly via Molex MX-150 connector eliminates poor field connections.


HARNESS OPTIONS
MX-150 harness with control wires and Deutsch DT/AT connector included. Harnesses with longer wires available.


EASY INTEGRATION WITH CT FUSE BLOCKS
Optional EasyLink bus bars provide reduces space and cost to connect TDRs with CT series Fuse Blocks.


EASY INTEGRATION WITH RT FUSE BLOCKS
Optional EasyLink bus bars provide reduces space and cost to connect TDRs with RT series Fuse Blocks.

INSTALLATION
This section is reserved for installation related questions & answers. For immediate assistance, please email:us at: support@egismobile.com
DIAGNOSTICS
This section is reserved for new or existing installation diagnostic related questions & answers. For immediate assistance, please email:us at: support@egismobile.com
APPLICATIONS
This section is reserved for general application related questions & answers. For immediate assistance, please email:us at: support@egismobile.com