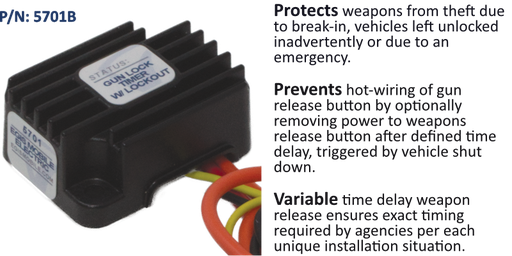 Applications / Problems This Solves
Protects weapons from theft due to break-in, vehicles left unlocked inadvertently or due to an emergency. 

Prevents hot-wiring of gun release button by optionally removing power to weapons release button after defined time delay, triggered by vehicle shut down.

Variable time delay weapon release ensures exact timing required by agencies per each unique installation situation.


Feature Summary
Ultra-Low Power Draw eliminates vehicle downtime due to dead batteries. Lowest off-state current draw (1.3 mA).

Optional Adjustable Lockout and Weapons Release Time Delays: 15 minutes to 2 hour Lockout delay (if enabled). 6 to 20 sec weapons release duration. 

Bulletproof Compact Construction: Sealed unit, high temperature materials allow mounting anywhere on vehicle. Integrated thermal overload protection

Meets Stringent OEM Standards for electrical transient self-protection

4 Year Industry Leading Warranty  

MAX CONTINUOUS
CURRENT (AMPS)
30
voltage range
(v dc)
8 - 18
off-state current draw 

(mA)

1.3
installed fuse value (amps)
5
Lockout Time Delay range (hr)
0 - 2
weapons release time range (sec)  
6-20
DIAGNOSTICS
See FAQ section below for further assistance

LOCAL LED INDICATOR

Provides diagnostic feedback for status of output and pending OFF event for time, temperature, or voltage reasons.


SELF-PROTECTED
Integrated fusing for short circuit and over-current, as well as integral over-temperature shutdown protection


CROSS-LINKED WIRE

Provides optimal protection against wire chaffing and installation in high temperature environments


SEALED ENCLOSURE

Sealed against dust and moisture penetration. High temp rated for all installation locations.

INSTALLATION
This section is reserved for installation related questions & answers. For immediate assistance, please email:us at: support@egismobile.com
DIAGNOSTICS
This section is reserved for new or existing installation diagnostic related questions & answers. For immediate assistance, please email:us at: support@egismobile.com
APPLICATIONS
This section is reserved for general application related questions & answers. For immediate assistance, please email:us at: support@egismobile.com