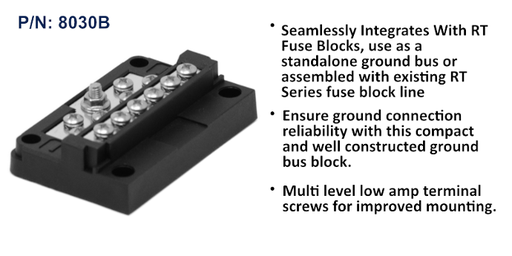 Description 
Applications / Problems This Solves
12 Circuit Block: Ensure ground connection reliability with this compact,  and well constructed ground bus block.
RT series connection compatibility enables smaller installation footprint and convenient negative terminal access when installed with a fuse block application.
Feature Summary
Bullet-proof Construction: Designed with high temperature materials and stainless steel self-locking hardware allow mounting anywhere on vehicle.

Seamlessly Integrates With RT Fuse Blocks: Use as a standalone ground bus or assembled with existing RT series Fuse Block Line
 Focal Features 

Robust Materials For Harsh Environments
All attachment hardware constructed of stainless steel with self-locking mechanisms for long lasting installations.  Plated copper alloy bus bar conductor withstands corrosion and maximizes conductivity. Engineering grade composite insulator supports high temperature application exposure such as engine compartments.

Seamlessly Integrates With RT Fuse Blocks
Can be installed individually on it's own, or assembled to the end of a 6, 12, or 18 position RT Series Fuse Block for a more compact overall footprint.
Application Example - RT Ground Block with 12 Position RT Fuse Block and TDR Relay

A well installed power distribution and clean ground return solution. Fused vehicle power is connected to the TDR Time Delay Relay (upper right), then distributed to the 12 Position RT Fuse Block (left). The RT Ground Block (lower right) was separate from the Fuse Block where it was originally tied together, and re-located to a more convenient locations for effective wire harness routing. Also shown, optional cover labels from emergency vehicle label sheet set.