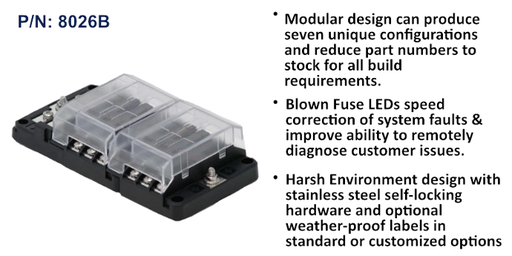 Description 
Applications / Problems This Solves
Modular design can produce seven (7) unique configurations from 8028 & 8030 and reduce part numbers to stock for all build requirements.

Blown Fuse LEDs speed correction of system faults & improve ability to remotely diagnose customer issues.

Harsh Environment design with stainless steel self-locking hardware and optional weather-proof labels in standard or customized options

Feature Summary
Bullet-proof Construction: Designed with high temperature materials and stainless steel self-locking hardware allow mounting anywhere on vehicle.

Protects Branch Circuits by accepting ATO style fuses ranging from 1 through 40 Amps.

Supports SAE Circuit Protection Standards for thermal/short circuit events.

Focal Features

Spare Fuse Locations
Two locations per 6 circuits for spare or test resistors for reducing siren volumes during evaluation.

Stainless Steel Self-Locking Hardware
 100 % Non Ferrous corrosion resistant materials. All attachment screws and nuts are self locking.

LED Fuse Diagnostics
Blown fuse LED indication for each output circuit provides clear indication of faulty circuits and eases trouble-shooting issues remotely.

Cover/ Label Recesses
Protects terminal studs and cable terminal edges from inadvertent shorts to each other or ground.

Ground Block Included
Includes 12 position ground return block with multi level low amp terminal screws for improved mounting.

Ground Block 
Separates
Ground block section optionally separates from fuse block section affording increased deployment options for challenging installations.
Application Example - 12 Position RT Fuse Block, RT Ground Block, and TDR Relay

A well installed power distribution and clean ground return solution. Fused vehicle power is connected to the TDR Time Delay Relay (upper right), then distributed to the 12 Position RT Fuse Block (left). The RT Ground Block (lower right) was separate from the Fuse Block where it was originally tied together, and re-located to a more convenient locations for effective wire harness routing. Also shown, optional cover labels from emergency vehicle label sheet set.