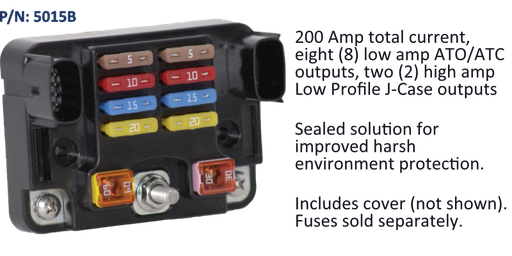 Applications / Problems This Solves
Compact Solution Combines Low Amp and High Amp Fuse Protection in One Product. 

Reduce Install Space and Total Installed Time/Cost, Two MX-150 Connectors for Low-Amp Outputs

Two (2) High-Amp (20-50A) Outputs Supports All Necessary Circuit Protection Needs in One Product

Accessory Products
Feature Summary
Two (2) High-Amp (20-50A) Outputs Supports All Necessary Circuit Protection Needs in One Product

Protects Add-On Circuits from accidental short circuits to frame ground or battery negative, or from overload events. 

4 Year Industry Leading Warranty


total CONTINUOUS
CURRENT (AMPS)
200
MAx current per ATO Fuse (Amps)
22
voltage range
(v dc)
8 - 36
MAx Current per LP J Case Fuse (Amps)
50
Max Currrent per 4 pos mx-150 (amps)
50
Max wire gauge, mx-150 connector
14 AWG
DIAGNOSTICS
See FAQ section below for further assistance

IP RATED FUSE COVER
Snap on fuse cover provides protection from positive terminals and ensures device is ignition protected (ISO 8846) in potentially explosive environments.


STAINLESS STEEL SELF-LOCKING HARDWARE
100% Non-ferrous corrosion resistant materials. All attachment screws and nuts include self-locking mechanisms.


AVAILABLE MATING CABLE ASSEMBLIES
We provide everything from loose connectors and terminals to complete connector and wire assemblies with circuit identifiers


COVER LABEL RECESSES
Cover provides recessed locations for circuit identification labels and fuse block function label. Standard and customized label sheets available separately


SIMPLE CONNECTIVITY 
Optional bus bars provide space saving and cost effective connections between other devices such as the TH Series relays disconnects.


LOW-AMP OUTPUT CONNECTORS
Plug and play assembly and reduce potential of loose electrical screw connections. 

INSTALLATION
This section is reserved for installation related questions & answers. For immediate assistance, please email:us at: support@egismobile.com
DIAGNOSTICS
This section is reserved for new or existing installation diagnostic related questions & answers. For immediate assistance, please email:us at: support@egismobile.com
APPLICATIONS
This section is reserved for general application related questions & answers. For immediate assistance, please email:us at: support@egismobile.com