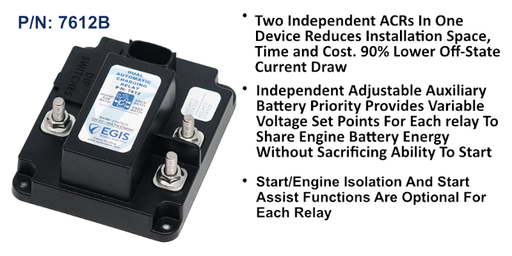 Applications / Problems This Solves
Prevents Dead Start Batteries and Ensures Starting Capability
 by sharing charging on either of three (3) batteries and isolating batteries when no charge sources are present.
Reduces Off-State Quiescent Current by 90% in Three Battery Bank Systems
 by incorporating two 
independent
 charge relays with one ultra-low power draw monitoring system.
Fully Sealed with Integrated Connector
 solves control wire corrosion and v
ibration
 issues related to competitive industry solutions. Enables plug and play assembly.
Accessory Products
Feature Summary
Ultra-Low Power Draw Compare to typical ACRs (7-10 mA) vs 7610 ACR @ 1.3 mA, will not deplete batteries even after extended electrical system downtime.

Optional Under-Voltage Lock-Out provides ability to prevent either ACR from connecting a good battery under charge with a battery that has a shorted cell, ensuring a single battery or bank will not deplete the other system batteries.

Start/Engine Isolation and Start Assist functions are optional for each relay; allowing protection of sensitive electronics from engine starting events or the option to boost cranking effectiveness.

Adjustable Off-Voltage for Auxiliary Battery Priority provides ability to share start battery energy for auxiliary without risking engine starting ability.

Additional Low Amp Output can be used to report device status remotely, or drive a secondary relay for charge to a battery bank without a charge source (see examples)

CONTINUOUS AMPS TOTAL / PER CIRCUIT
160 / 80
voltage range
(v dc)
8 - 18
off-state current draw 

(mA)

1.3
intermittent AMPS TOTAL / PER RELAY
240/120
acr closing voltage range (v dc)
12.8-13.4
ACR opening VOLTAGE RANGE (V DC)
12.2-12.8
ARTICLES
Check back here for product related articles
DIAGNOSTICS
See FAQ section below for further assistance

TOP SIDE DIP SWITCHES
Accessible after mounting, for programming voltage settings and determining active features. Protected by self-retained cover.


STAINLESS STEEL SELF-LOCKING HARDWARE
100% Non-ferrous corrosion resistant materials. All attachment screws and nuts are self-locking.


INTEGRAL I/O CONNECTOR
Sealed Molex MX-150 connector eliminates the susceptibility to corrosion and vibrating loose of 1/4" quick connect terminals on competitive products.


CONNECTION OPTIONS
Comes standard with Deutsch DT/AT style connector harness. Provides three connection options (MX-150, DT/AT, Wire Leads)


EASY INTEGRATION WITH RT FUSE BLOCKS (24 HR CIRCUITS)
Optional EasyLink bus bars reduces space and cost to connect TH Series Relays with RT Series Fuse Blocks.


LED DIAGNOSTICS
Provides indication of pending relay ON/OFF, under voltage, over voltage/temp, start isolation/assist, and Output on/off status.

INSTALLATION
This section is reserved for installation related questions & answers. For immediate assistance, please email:us at: support@egismobile.com
DIAGNOSTICS
This section is reserved for new or existing installation diagnostic related questions & answers. For immediate assistance, please email:us at: support@egismobile.com
APPLICATIONS
This section is reserved for general application related questions & answers. For immediate assistance, please email:us at: support@egismobile.com