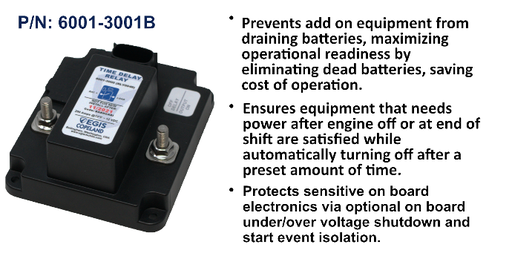 Description 
Applications / Problems This Solves
Eliminates Dead Start Batteries by sharing charging on either of two batteries and isolating batteries when no charge sources are present.
Supports Multiple Engines or 
Independent
 Charge Systems
 by incorporating two independent start or engine isolation inputs to allow isolation of charge sources when both are active to maximize charging performance.
Protects Electrical System Cascading Faults
 with optional lock-out from closing if one terminal is connected to a battery with a shorted cell.
Feature Summary
Ultra-Low Power Draw Compare to typical ACRs (7-10 mA) vs 7610 ACR @ 1.3 mA, will not deplete batteries even after extended electrical system downtime.


Simple & Robust Installation
: 
 Integrated sealed plug eliminates corrosion, includes Deutsch/Amphenol DTM connector harness
Start Assist
input option to ensure maximum cranking amps available by allowing manually connecting of batteries via remote switch.

Bullet-proof Construction:
Sealed unit, stainless steel hardware, high temperature materials allow mounting anywhere. Integrated thermal overload shutdown protection.

Top Side Dip Switches
 Accessible after installation, for programming time delay and determining active features. Protected by self-retained cover.

Stainless Steel Self-Locking Hardware
 100% Non-ferrous corrosion resistant materials. All attachment screws and nuts are self-locking.

Integral I/O Connector
Rapid and 100% correct assembly via Molex MX-150 connector eliminates poor field connections.

Standard & Optional Harnesses
Mating plug with 2 feet of ground and ignition wire included. Optional harnesses with additional outputs / extended wire lengths available

Easy Integration With CT & RT Series Fuse Blocks
 Optional busbars make it easy to connect this TH relay to our RT and CT series fuse blocks for a more compact, reliable and professional looking install.

LED 
Diagnostics
Provides indication of pending relay OFF event due to under/over voltage or external off trigger. Output on/off status also provided.
Application Example 
Entire Vehicle Switching and Circuit Protection
Combining a high-amp TH Series Time Delay Relay (TDR) with a 5015 Fuse Block attached to the TDR input stud (left) provides 24 hour / keep-alive circuits; while the second 5015 Fuse Block (right) attaches to the output stud of the TDR providing switched circuits for the installation. The TDR can operate both as a remotely controlled switch and optionally in an autonomous mode after a prescribed time from a trigger event or due to a low input voltage situation. Fuse blocks shown without included covers.
Installation Example 

12 Position RT Fuse Block, RT Ground Block, and TH Series Time Delay Relay (TDR)

A well installed power distribution and clean ground return solution. Fused vehicle power is connected to the TDR Time Delay Relay (upper right), then distributed to the 12 Position RT Fuse Block (left). The RT Ground Block (lower right) was separate from the Fuse Block where it was originally tied together, and re-located to a more convenient locations for effective wire harness routing. Also shown, optional cover labels from emergency vehicle label sheet set.